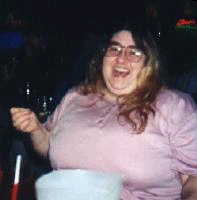 Margaret Gray is a 53 year old female style consultant and nationally syndicated free-lance columnist (of A Little Bird Told Me) which goes to over 100 papers around the country. Her husband Frank is a movie producer worth over $35 million. Her limited outlook and intelligence is despite allegedly having a degree from the University of Pennsylvania and a masters from UC Berkeley. She always feels that she is totally justified in the many biased skewed beliefs that she has and never fails to upset various callers to" the stinking show" and even Phil. She moved to LA from Miami when Phil moved out here. She says she has had a great deal of work done to make her body "all that".
Margaret, upset with a high-speed police chase in her neighborhood, said she did not move into the Palisades to have these type of things and police helicopters flying overhead in this very rich upper class area. Margaret was so frightened that she soiled her Bill Blass pants suit. She believes that the police should have chased these criminals into some community like Pasadena, Montebello or other such community where this sort of thing is commonplace. As Margaret said, " I live where I live to avoid crime while you (listener in Montebello) live where you do because you put up with crime!" Needless to say, callers from all over LA voiced their opinion of both Margaret and her uppity ideas.
Margaret and her husband Frank wanted to help her niece to have a Millenium baby and they told her niece that she had to conceive the first week of March. Margaret and Frank babysat the kids at the niece's house while she and her husband conceived in the bedroom undisturbed. Things went well until one caller pointed out that a Millenium baby must be conceived in April not March. It seems Frank made his calculations while smoking weed, thus the miscalculation.
Margaret covered the Annual White House Easter Egg Roll this year ( surprisingly she attended on Sunday when the event was on Monday with the Clintons in Camp David on Sunday).Margaret brought her 6 yr old son, Jason with her and they met the president. Margaret made it clear that she was an invited guest and not one of those low-lifes who bought tickets to the event. She even reported people in line who were not invited guests like her. The callers were all irate with Margaret's uppity attitude. Margaret, of course, didn't see it that way. Being media, she says she is afforded opportunities to meet the rich and famous. As well she should!! She further flaunted the "media thing" in the face of Phil's listeners when she covered the Van Gogh exhibit in LA. She claims she was able to see "Starry Night"( although it is in NY according to one caller) and other paintings not on public display because she is media and the callers are commoners who could not appreciate all those paintings any way! She also drove listeners crazy as she mispronounced "Van Goth"!
Margaret is now trying to get her son Jason into the movies. She has changed his name from Gray to Delmonico because it has a better ring. She and Frank picked Delmonico because they love Delmonico steaks. Listeners were incredulous!
While doing an interview at the Fox Cafeteria, Margaret had a very embarrassing situation. She used the toilet facilities which were right there next to their table. When she left the bathroom, a terrible odor emitted from the room. Margaret was extrememly offended that a waitress ran into the bathroom with a tissue over her face and lit hundreds of matches to kill the odor.
To the fury of listeners, she kicked blind kids off a Magic Mountain roller coaster so she, as a full-fledged media person, could experience the new ride for an article she was writing. Her gift to her sister Joanna of a complete plastic surgery make over for her 40th birthday given publicly at her party was completely tactless, although Margaret could not see it that way. Margaret's thoughts on Mother's Day gifts were so outrageous that callers could not believe she was real! One example of her ideas was to take your mother to the docks and eat a bag lunch there. Her belief that plaid was certainly coming back in 1998 only confirmed to the listeners that she is, as always, out in left field. And who could forget Margaret reporting on Mark McGuire from the St. Louis Cardinals' locker room when he hit his record breaking home run. And will the Rose Parade from Pasadena ever be the same after her commentary on KFI?